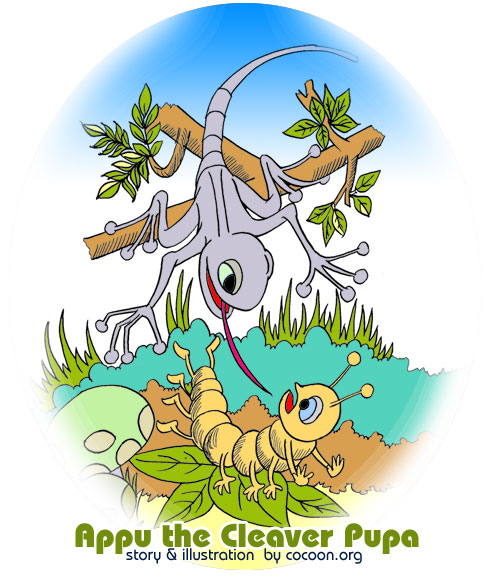 Once upon a time, there lived Appu, the caterpillar. He was smart and clever. His friends admired him and called him, Appu the clever.
Appu lived on a shrub that was full of dangers. A lizard guarded the shrub and ate all the unwary caterpillars. So Appu had to be cautious all the time.
The lizard was eager to catch Appu. He waited and was hopeful that Appu would walk into his trap soon. His mouth salivated with the thought.
One day, the lizard was on a stroll when he spotted Appu crawling on the edge of a bark. The lizard quickly changed his skin color and stood still. He was sure that he would not miss Appu this time. As Appu moved closer, the lizard flicked his tongue.
But, Appu was faster. He dropped himself from the bark, holding his silk life line tight with his mandibles. In seconds Appu was several feet away from the gaping mouth of the lizard.
"Gosh! What a miss…" the lizard murmured. He was much disappointed. He reassured himself. Next time, he would not fail.
Appu held his life line. After the lizard moved away, he crawled back to safety.
Days passed by. Appu had many an escape and the lizard was outsmarted every time. Winter was approaching. Now it was resting time for the caterpillars. Appu would spend the time in a cocoon. He would be motionless and would be an easy target for predators. Therefore, Appu had to take all precautions well in advance. It would be a mere chance if he was left alive. But Appu was confident. He began to sleep quite and calm inside his cocoon.
The lizard was waiting for this occasion. He grinned. He licked his tongue and shouted, "I will catch you fellow. This time no escape!!"He came near Appu's cocoon, opened his mouth and shot his tongue. Oops, his tongue became red. It started burning and the lizard shrieked in pain. It was unbearable. The lizard had to spit thousand times to get rid of the bad taste that spread like fire all over his body. He ran helter skelter.
Appu knew what was happening outside his cocoon. It was quite expected. What Appu did was, he ate lots of poisonous stuff while he was a caterpillar. He smeared his cocoon with the poisons. The poisons did their job. While the lizard was vomiting elsewhere, Appu was enjoying his winter sleep. He was quite sure that the lizard was gone for ever.
It is easy to solve problems, however tough they are, if you plan ahead…